---
Start Time
End Time
Event
Details
All Day
Parent to Parent Coffee Talk Tuesday
Do you enjoy sitting down and sharing a conversation over a cup of coffee? If so then join us! Time: 8:15am. 2nd Tuesday of each month-Big Rapids: Eastwood Early Childhood Community Center. 3rd Tuesday of each Month-Reed City: Reed City Depot Community Room. Sponsored by the Mecosta-Osceola Great Start Parent Coalition. For more information call Chasity at (231) 592-9605 or email cholmquist@moisd.org.
All Day
Feed The Needy Campaign
Monetary donations of $5 to $500 dollars can be made to Big Rapids Bob Evans Restaurant or a contribution can be made to buy a whole meal for a family of four($48) or a family of eight ($85). Meals will be distributed through St. Mary's and St. Paul's. The meals comes complete with a slow roasted whole boneless turkey breast, bread and celery dressing, mashed potatoes and gravy, buttered sweet corn, green beans with ham, cranberry relish and rolls. Bob Evans is partnering with W.I.S.E., Project Starburst, St. Mary's Catholic Church, and St. Paul's Church.
All Day
Salvation Army Fundraising
The Salvation Army would like to remind everyone that there are folks in our community that will struggle to make it through the upcoming winter months. With the economic decline and increase in cost of living, many will find it hard to keep up with their rent or utility payments. The Salvation Army has made it their mission to help these families keep their heat, water, or electricity. In order to accomplish their mission, they need your help. By volunteering a a bell ringer or dropping your change in one of their Red Kettles, you should your support for Mecosta, Osceola Lake an Newaygo Counties. Locations include: Fosters Maket (Evart) Vic's Market (Reed City) Walmart (Big Rapids and Fremont) Kmart (Big Rapids) Walgreens (Big Rapids and Fremont) Plumb's (Newaygo) Anyone interested contact Chris Vallette (bellringing2012@gmail.com)
12:00PM
4:30PM
St. Vincent Used Clothing Stre
Open Monday through Friday, 12:00 noon until 4:#0 pm. They have a large selection of women's and men's clothes and shoes. New items are donated everyday. Also hey have many children clothing and lots of miscellaneous items. They also have a great selection of Christmans decorations. COme shop with us, we have the lowest prices n town. Located at 102 Williams St. Big Rapids, Mi.
---
---
---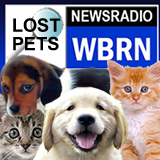 Click here for the WBRN-AM Lost Animals page